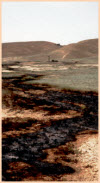 PROJECT WORK AREAS: MIDDLE EAST - WEST ASIA
The categories of work completed in the region include the following:
Contingency Plan (CP)
Environmental Auditing (EA)
Environmental Evaluation (EV)
Environmental and Social Impact Assessment (ESIA)
Environmental Monitoring (EM)
Risk Analysis (RA)
Sensitivity Mapping (ESI)
Spill Response / Emergency Response Planning (SR/ER)
Training (T)
Technical Study (TS)
---
AZERBAIJAN
Environmental Manager, Pipeline Construction. CCC Engineers, BTC Project. (EM, SR/ER, T)
Environmental Review / Due Diligence; 10 oil and gas fields prior to potential sale. Houston based oil company. (EV)
---
KAZAKHSTAN
ESIA for seismic operations and environmental mapping of entire Kazakhstan shoreline of the Caspian Sea. KazakhCaspiShelf. (ESIA, ESI)
---
KURDISTAN (IRAQ)
Technical review of EIA for seismic operations, International oil company. (ESIA)

---
KUWAIT
---
LEBANON
Assessment of environmental damages and related economic costs of the Jiyah oil spill resulting from conflict with Israel. World Bank. (ESIA)

---
SAUDI ARABIA
EIA for 13 Power Plants in Western Region (Red Sea). Saudi Electric Co.- Western Region. (EIA)
Arabian Gulf oil impacts from the Gulf War. MEPA (Bechtel). (EV, SR)
Protocols for Oil Spill Assessment. MEPA (Bechtel). (EV)

---
TUNISIA
Contingency Plan Advisor and Equipment Need Assessment, U.S. TDA. (SR, TS)

---
TURKEY
Response and Management Plans, Incident Management Plan, Risk Analyses, Training, Spill Modeling for the BTC Pipeline and Marine Terminal, Botas (SR/ER, EM, EV, TS, ESI, T).
Oil Spill Responder, Shoreline / Nearshore Operations, Botas, (SR).

---
TURKMENISTAN
Analysis of Turkmentbashi Oil Spill Contingency Plan and Response Equipment Requirements. World Bank study. (ER, TS)
---
---
---
---
---
---